Statement made by Australian High Commissioner to Zambia, Suzanne McCourt, on presentation of her credentials to President Lungu
Your Excellency, it gives me great honour to present to you the letters of credential from the Australian Governor-General, appointing me as Australia's High Commissioner to Zambia. I am also honoured to present to you the Governor-General's letter of recall for the former High Commissioner.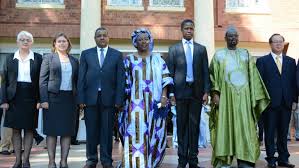 High Commissioner McCourt with President Lungu and other diplomats after presentation of credentials
The Government and people of Australia continue to greatly value our long-standing relationship with Zambia, which has been built on our shared democratic traditions and common history as members of the Commonwealth.
Our friendly relationship with Zambia is evidenced by the steady flow of visits in both directions, strong people to people links, and commercial ties including multi-billion dollar economic engagement in the mining sector. My Government is pleased to note the role of Australian mining companies in building the economy of Zambia.
I also note our support, over many years, for talented Zambian students to study in Australia, and return with skills which will further develop the economy. The Australian Government has also made a major contribution to development in other areas, including in water and sanitation, and in development of the mining sector.
Australia warmly welcomes the re-establishment of a High Commission in Canberra, which, combined with the establishment of an Honorary Consulate in Lusaka in 2013, will facilitate the growing bilateral relations between our two countries. I am personally committed to doing what I can to develop our relationship over the coming years.
I look forward to the pursuit of our common objective to develop bilateral ties, through close cooperation and mutual respect.
Thank you.