On 20 June, Embassy staff Rose Kapungu and Christina Landsberg travelled to Mutoko in Mashonaland East Province of Zimbabwe to visit Australian-supported projects by the Community Technology Development Organisation (CTDO). The organisation works in partnership with Australian partner, Action for Poverty (AFAP), and is supported by the Australian Government through the Australian NGO Cooperation Program (ANCP).
The visit showcased the success of the organisation's 3-in-1 model of community development. This integrated model provides support in the form of food security, health services and water, sanitation and hygiene.
The project visit in Makosa Ward started off at the site of a borehole drilled and equipped with a solar powered system that pumps water to a community nutrition garden and Maternal Waiting Home.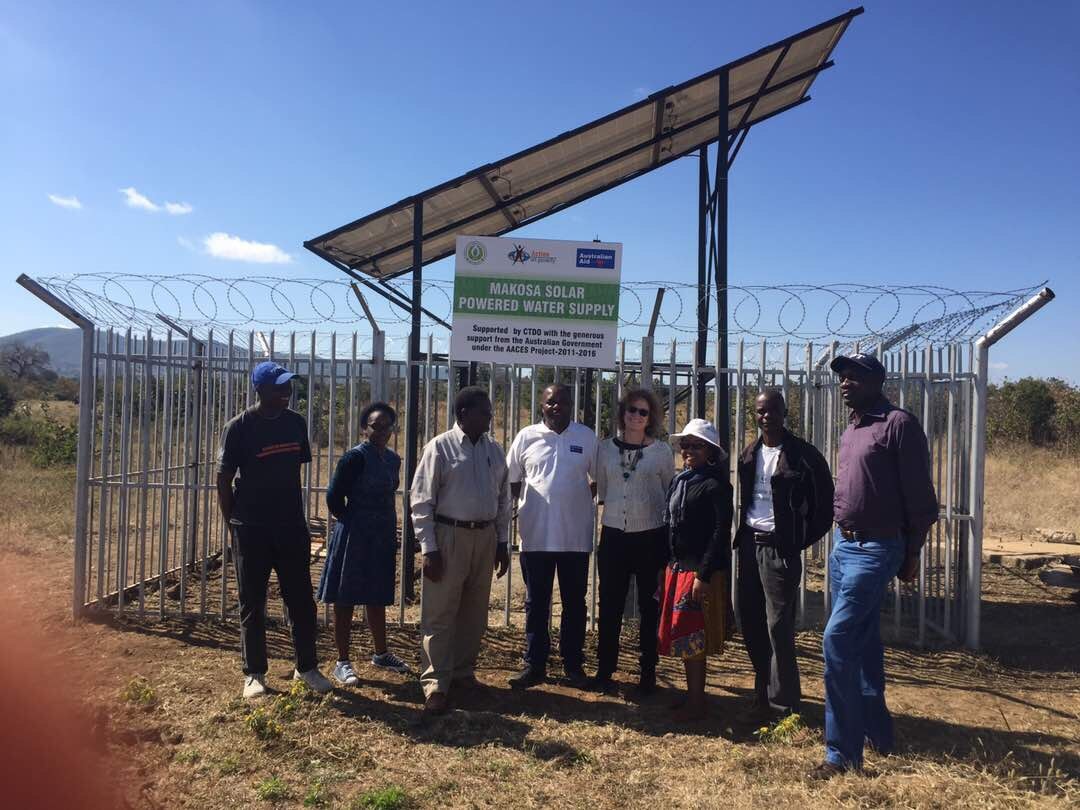 Standing in front of the solar-powered pump at Makosa, from left, Mr Godfrey Mushayi (Agritex Supervisor), Ms. Marceline Fusire (Assistant Program Manager, CTDO), Andrew Mushita (Director, CTDO), Fred Zinanga (Program Manager, CTDO), Christina Landsberg (First Secretary Development Cooperation, DFAT), Roselyn Kapungu (Program Manager, DFAT), Mr Munetsi Chikwizo (Agritex Officer), Rakiwota Chisunga (DFAT)
The Maternal Waiting Home at Makosa is one of three built through the project since 2011. At thirty-six weeks, expectant mothers travel from often distant villages, and await delivery residing at the Home. They receive medical care from the local health centre next to the Home, including Prevention of Mother to Child Transmission (PMTCT) of HIV. These facilities have addressed high rates of maternal and infant mortality and complications from home births.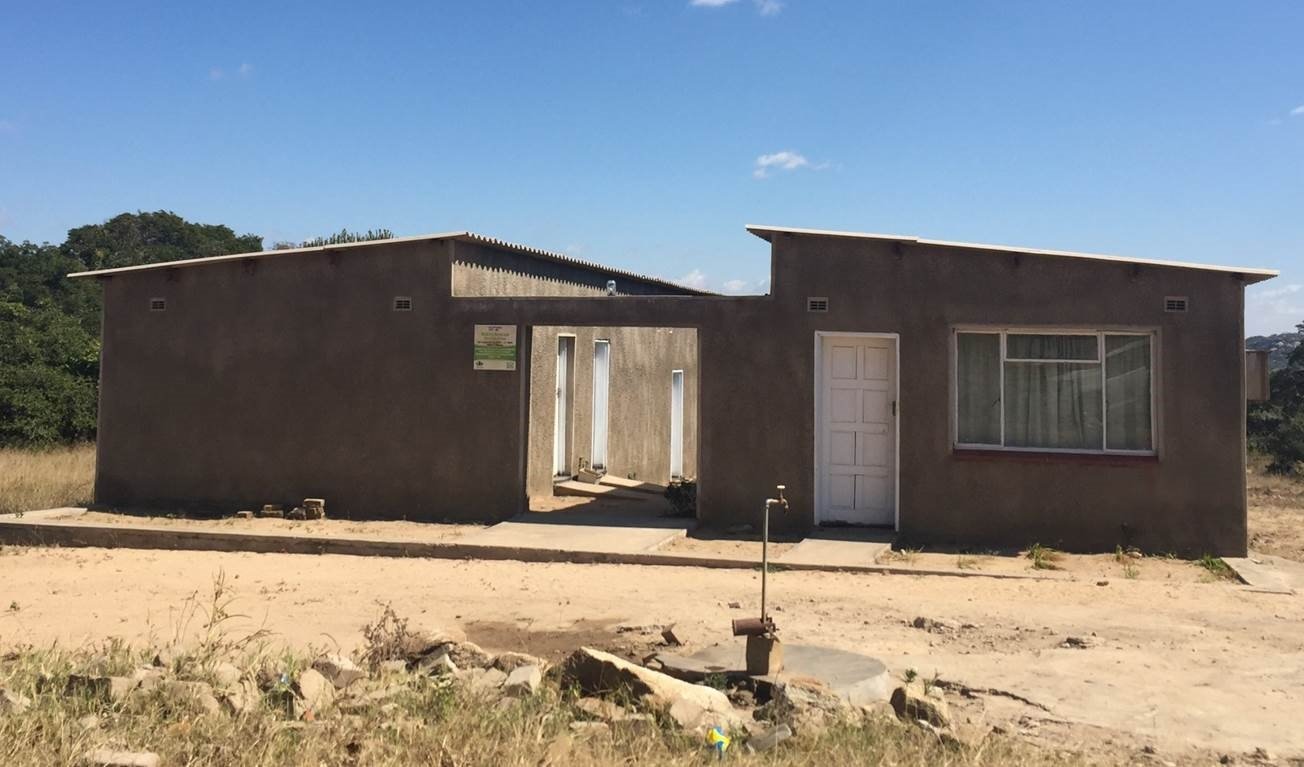 The Makosa Maternal Waiting Home
The solar-power pump delivers reliable water for Makosa Nutrition Garden. The garden provides its members with a dependable source of nutritional vegetables for their own consumption and for sale to other community members. The eight nutritional gardens supported by CTDO have directly benefited over three hundred households in Mutoko.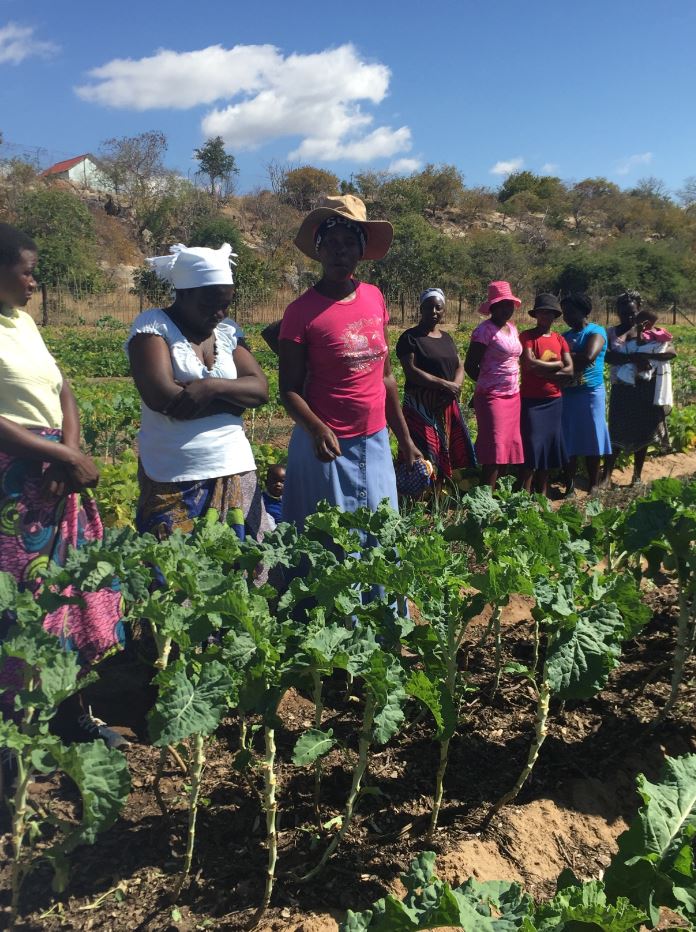 Mrs. Debe, Chairperson of the Makosa Nutrition Garden Committee speaks about the benefits of the garden, with committee members looking on.
Emerging as a key success factor for the project was the active engagement and participation of citizens, local and traditional authorities, agricultural extension officers and representatives of government ministries. Ward Counsellor, Mr Chayambura noted and appreciated the partnership, saying that "…together with the community, we have gone ahead and built a larger cooking area for our expectant mothers for them to be more comfortable during their stay. The garden is a roaring success, and we want to ask for more land for expansion from the Headman to improve the well-being of people in this ward."
This is a project that is clearly contributing to the community's well-being and enhancing its resilience. Moreover, it shows every sign of being sustainable in the long-term, beyond the end of the project.