Australia Day 2017 - Speech by Ambassador McCourt
Welcome
Thank you all for coming here to the Australian Embassy in Harare to help us celebrate our Australia Day. I would like in particular to welcome the new Deputy Head of Mission of the Embassy, Mr Peter Macfarlane. I am thrilled he is here and know he is going to be a great addition to the Embassy team.
When people ask what is authentically Australian food, or dress, or customs, we are happy not to have a straight answer. For the tapestry of peoples that make up Australia, the answer will be different. For food it may be Italian, Thai or fish and chips; for dress it may be an Indian sari, a suit or a pair of baggy shorts; for religion it may be a church, a mosque or one of the traditional sites of our first Australians.
We Australians are a multi-racial, multi-lingual people proud of our tolerance of difference, be it religious, sexual, ethnic, or political. This is a day to celebrate that diversity and difference.
This is the day that we also welcome more people into our growing Australian family. All over Australia on Australia Day, from under the Sydney Harbour Bridge, within sight of Parliament House in Canberra, and in the sunburnt little town in rural South Australia where I grew up, people from all parts of the world will be taking the oath to become an Australian citizen. Last year saw 16,000 people take this pledge, and this year a similar number will too.
We are proud because each one of these new Australians helps us write the next chapter in our Australian story. We are delighted that 30,000 Zimbabweans have decided to make Australia their home. I said it last year and I'll say it again: Zimbabweans are thriving in Australia – they have higher incomes, higher employment rates and higher education levels than the average Australian.
Zimbabweans are making Australia a richer society. Just a few weeks ago we saw the Australian cricket test debut of Hilton Cartwright. Pettinah Gappah was a hit at last year's Sydney Writer's Festival. Indeed Zimbabweans are making valuable contributions across Australia in sport, the arts, in commerce and in industry. And more and more Zimbabwean students are taking the opportunity to study at Australia's highly quality universities and colleges.
Australia Day, like all national days, is a time for reflection as much as for pride. Have we as Australians succeeded in making 'this Commonwealth of ours renowned of all the lands', in the words of our national anthem we just heard? Have we succeeded in fulfilling our dreams of what we want our independence to be? Are we as Australians doing as much as we can to make sure that the best days of our country are ahead of us?
We continue to tackle really tough issues in our own society, including indigenous disadvantage and domestic violence. As I mentioned during my remarks at the International Day of the Elimination of Violence Against Women, I am very proud that the last two Australians of the Year are a man and a woman lauded for their efforts to speak out against sexism and violence against women that still too common in modern Australia.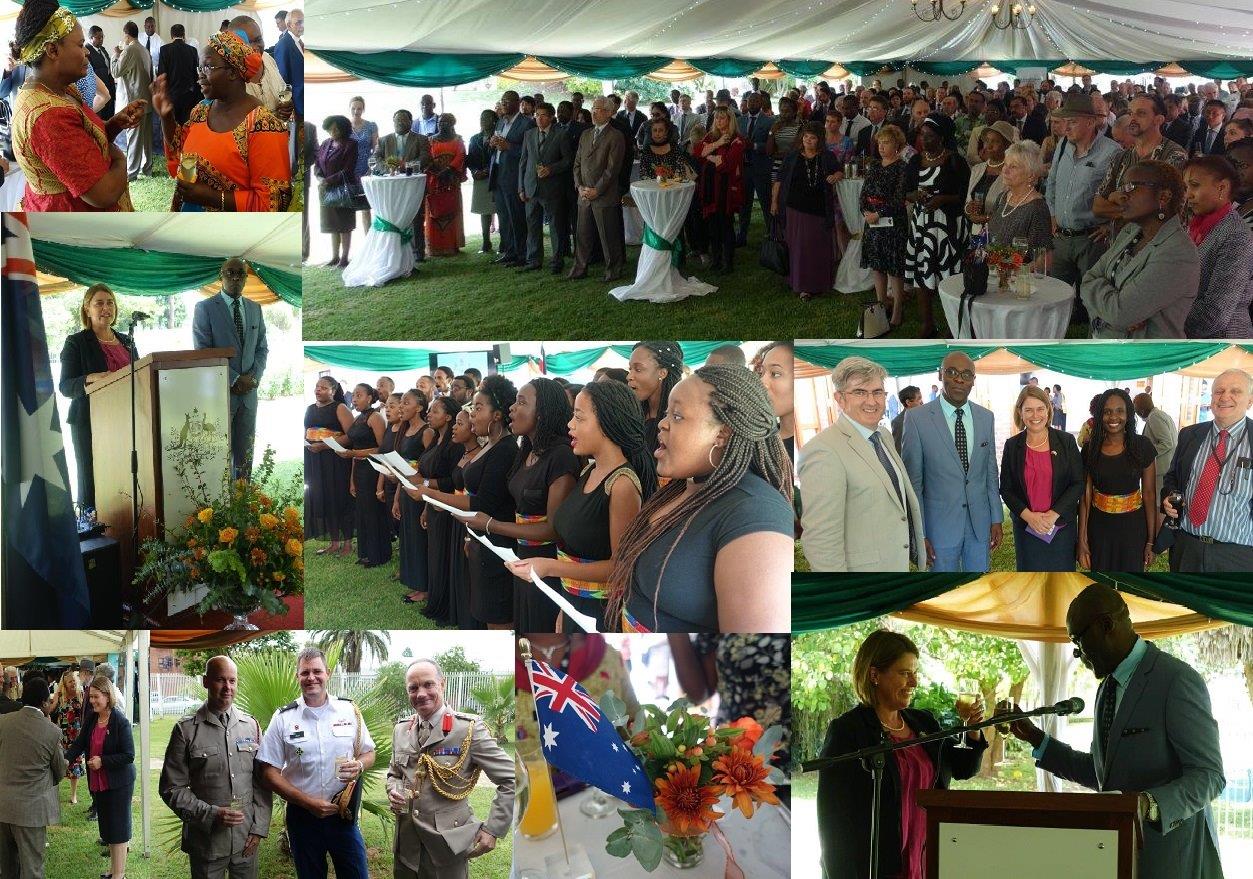 Ever since Zimbabwe's independence in 1980, Australia has had a presence here in Harare to support the Zimbabwean people fulfil their dreams of what they want their country to be. We were a proud supporter of Zimbabwean independence and remain so to this day. During the Lancaster House discussions Australia's then Prime Minister, Malcolm Fraser, was a critical player in ensuring a deal was struck. I am proud to be the 12th Australian representative charged with nurturing this enduring bond between our two peoples.
There are many Australians in Zimbabwe who in their respective fields, be it health, business or education, are making valuable contributions to making Zimbabwe a better place. Many of them are here today and I thank them for their contribution.
And as a Government, we are also playing our part. Our multi-million dollar commitment to WASH and agriculture livelihoods programs over recent years has directly impacted hundreds of thousands of Zimbabweans - improving their health and economic prospects. This year we contributed USD10 million to the World Food Program's southern Africa drought response, a significant proportion of which came to Zimbabwe. We continue to support civil society and use our small grants program to support projects in schools, orphanages and other community organisations across the nation.
Three highlights for me in 2016 were:
opening a cricket ground we helped build in a high density suburb outside of Kwekwe,
hosting an Australian science educator who showed thousands of Zimbabwean students, particularly girls, how learning science can be fun, and
hosting a workshop between Zimbabwean and Western Australian mining officials, to discuss best practice governance in the mining sector. This workshop had the strong support of the Zimbabwean Minister and Deputy Minister of Mines.
So, in some small part, we're trying to help contribute at least a few paragraphs to this Zimbabwean story.
And we all want a good ending for this story. We all want the best days of this country to be days to come rather than the days past.
I believe we have the clear outline for how this story ends well, founded on the 2013 Zimbabwean Constitution.
It means implementing laws that give effect to the people's hopes and aspirations in this Constitution,
it means respecting human rights, respecting property rights, tackling corruption every bit as much with deed as with words,
it means ensuring that the conditions are in place for Zimbabweans to go to the polls in a free and fair manner and those results being accepted,
it means ensuring that no-one is above the law
and it means policy certainty.
As an Australian Ambassador looking to build deeper partnerships between Australian and Zimbabwean business, and support development and economic growth, these are all important. But, more importantly all of us here know they are important for the people of Zimbabwe to fulfil their dreams of what they want their future to be. We intend to be a part of that story.
Thank you
TOAST
With those few words, I would like to propose a toast to the Zimbabwean People, and the Head of State of the Republic of Zimbabwe.