Better service provision for less!
Article by Alexandra Ehrhardt, Nesisa Mpofu and Hailey Lowe (GIZ)
City of Kings rolls out pilot project with community trucks for waste collection: clean streets don't have to cost the Council a lot of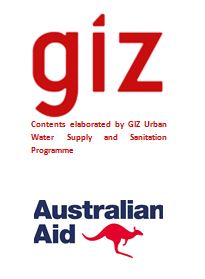 money. With a clever and innovative idea the city of Bulawayo looks much tidier than one year ago.
What sounds like a dream, the City of Bulawayo has made come true: cleaner streets and properties without increasing the number of staff and vehicles to collect refuse. "We always try to find innovative ways of improving the service delivery to the residents", says Nesisa E Mpofu, the Council's spokesperson.
In June 2015 the City of Bulawayo piloted the use of community trucks to collect solid waste in Emganwini, a high density suburb that is furthest from the Municipal landfill site. To make the project happen the Council needed help from its residents. "We contracted owners of trucks with a capacity of three to seven tonnes to collect the refuse from door to door, and in order to smoothen out the process, we asked inhabitants to store their rubbish in plastic bags," explains Mpofu. Once the big community truck is full the owner of the vehicle transfers the waste to a Council compactor truck which then takes the rubbish to the Richmond Sanitary Landfill for final disposal.
The benefits of the projects are numerous but the most obvious is that the area is cleaner. This is because collection of refuse happens now weekly instead of every fortnight and there is less illegal dumping that takes place. In addition to household waste, the trucks also collect sweepings placed at the roadside by Community street sweeping groups, which has not only contributed to the cleanliness of the suburbs but also to saving of expenses as BCC no longer need to pay for an additional collection.
No wonder the Council decided to roll out the project in the additional high density suburbs of Nketa, Nkulumane and Pumula South. Although there is a charge for the contractors, it is easy to see that the Council will save money with this new procedure. Before the project, Council needed six days to remove the refuse from Nkulumane suburb with over 14,000 properties. "We now get it clean within a single day using two refuse compactors, two haulage overseers and two labourers", explains Mpofu. In all high density areas, Council now only need four compactors and four labourers to provide weekly refuse collection, whereas previously ten compactors and forty labourers were needed. "We also expect the vehicle costs to go down as Council vehicles no longer have to manoeuvre the narrow and sharp turns within the high density suburbs. This will reduce wearing of tyres, brakes, clutch and fuel consumption."
Since 1 May 2016 all areas in the City of Bulawayo are now serviced with weekly refuse collection.